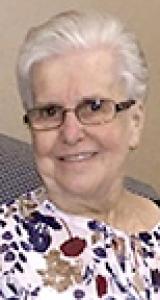 LINDA TOMANEK
(nee GALLANT)
It appears that God was in need of volunteers. On Tuesday, January 5, 2021, Linda Tomanek, peacefully passed in her sleep at home.
Linda will be lovingly remembered by her daughter Brenda Zielke, son Kevin (Jennifer), daughter Disa Tomanek-Pomanski (Kory), her four grandchildren, Xavier, Logan, Jordan and Calla; her sisters, Doreen and Wilma; and many nephews and nieces. She was predeceased by her husband John; her parents, Raymond and Alice; and her brother Keith.
Linda was born in Dauphin, MB on June 17, 1945 and grew up in Gilbert Plains, MB. She moved to Winnipeg in 1969 to pursue an administrative assistant diploma at Red River. Shortly after, she met John and an ensuing whirlwind romance led to a July 17, 1971 wedding. At this time Linda decided to take on the greatest job, "Mom" to all of us.
Linda's generosity could not be contained from there. It was never a second thought to donate needed items, her time, an ear or a laugh to those who needed it. She spent an amazing 38 years on the board at Garden City Community Club. She found time for the St. Anne's Ladies (later St. Francis Church) supporting fairs, suppers and as pie maker extraordinaire; as a Forest Park 'hot dog lady'; running her bowling and curling leagues; supporting the Canadian Cancer Society; board member and umpire assignor for North Winnipeg; board member for the Nomads and anywhere else she could help.
Linda was a diehard sports fan, watching every curling match of the season, figure skating, going to her beloved Goldeyes on warm summer nights, the Olympics, the Jets and seeing the Bombers win one more Grey Cup with her children. However, her inner child appeared most watching horses run, perform or just being around them.
Linda loved Christmas. She would buy gifts all year round, bake for days and cook all her specialties to celebrate the day with all the people she loved. She made every Christmas brighter with her laughter and her smile.
Her greatest joy was her grandchildren. Whether it was walks to the community centre, watching them play sports or perform, she could never get enough of them. In fact, if you never helped fundraise for Linda's grandkids, you probably didn't know her.
A Celebration of Life will be held when possible in order to gather her family and many, many friends.
In lieu of flowers, when you have the opportunity, please find the time to volunteer in your community. It is what Linda would want.
As published in Winnipeg Free Press on Jan 09, 2021