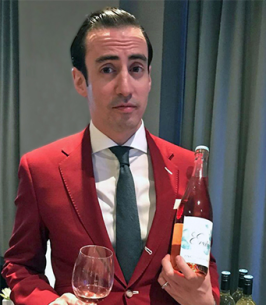 Michael Paddock
June 27, 1979 – October 29, 2020

It is with great sadness we announce the passing of our beloved Michael Paddock on Wednesday, October 29, 2020 at the age of 41.

Michael was born in Brandon, MB and moved to Calgary in 2007. From a young age, Michael fell in love with art, reading, comic books and was always a man of many interests. His greatest passions in life were for wine and travel which led him to his career in hospitality which he loved.

Michael graduated from Hotel and Restaurant Management at Red River College in Winnipeg and has dedicated his career to the hospitality industry. Michael then completed his diploma from the International Sommelier Guild and followed that with his sommelier certification from the Court of Master Sommeliers. In 2015 Michael was the recipient of the Canadian scholarship for the advanced program of the Court of Master Sommeliers.

Michael worked every position in the restaurant industry eventually working his way up to General Manager and finally Director of Operations. He worked at some of the top restaurants in two provinces while putting himself through school.

He helped open the Yellow Door Bistro for Hotel Arts where he was general manager. Under his stewardship, they were awarded the 'Restaurant of the Year' award by the Calgary White Hat association. Concurrently he spent two years working with the Calgary Stampede as a Cellar Master working with a broad spectrum of winemakers and sommeliers. In 2017 he accepted the role of director of restaurant operations for Murrieta's restaurants, work he considered as some of his most rewarding. Michael excelled in all his career aspirations and will be dearly missed by his colleagues many of which he was proudly a mentor for.

Michael will be remembered for his amazing sense of humour, his contagious laugh, for always being the best dressed in the room, and for the deep impacts he made on so many friends and colleagues.

Michael is survived by his mother, Seema Schachter and father, Burns Paddock; siblings, Ryan Paddock and Sarah Paddock; as well as countless loving friends.

Thank you to our friends and family for their outpouring love and support during this time.

Due to Covid Restrictions, a private Celebration of Michael's Life will be held.

In lieu of flowers, donations may be made in Micheal's memory to Canadian Cancer Society. To view and share photos, condolences and memories of Michael, please visit www.choicememorial.com.