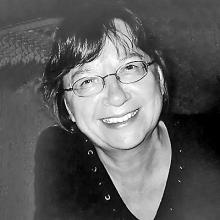 KATHERINE YURKOWSKI
(nee AZARANSKY)
1950 - 2023
Our beloved Katherine peacefully passed away on Monday October 30, 2023, at 3:00 p.m., at Health Sciences Centre, Winnipeg, Manitoba.

Katherine was born in Coaldale, Alberta to Serhi and Anastazia Azaransky on February 2, 1950.

Katherine leaves behind her loving husband Malcolm Yurkowski; and her loving daughter Christine Yurkowski; as well as her future son-in-law Matt Abell; her brother John Azaransky; nephews and nieces, Ken and Kim Azaransky, Michael and Carrie Azaransky, Ralph and Barbara Lohr, Deborah Azaransky, Sarah Azaransky; and sister-in-law Jacquie Azaransky.

Kathy was a vibrant and loving soul, who loved her family and friends with great enthusiasm. In her early days as a social worker, she was nicknamed "Little Miss Sunshine" because she was always very happy, friendly, and smiling to her family, friends, and co-workers. Kathy was an excellent social worker, and her goal was to help her clients as much as possible to achieve better lives. She worked for Manitoba Child and Family Services and the Women's Health Centre from 1972 until 1990. In 1991 Kathy earned the position of Executive Director of Seniors of Manitoba and reported directly to the Seniors Ministers of Manitoba at that time. She held that position until 2000 and for a two-year period after freelanced in investigations of reported abuse in senior care homes.

In 2002 Katherine joined Canadian Scholarship Trust Plan as a sales representative selling RESP plans to parents of young children who wanted their children to achieve higher educations. As with all her lifetime endeavours, Katherine achieved great success with the Canadian Scholarship Trust Foundation. Many times, she achieved top 30 selling status in Canada and won several paid for trips to vacation hotspots.

Our beloved Katherine will be dearly missed by her family and friends. Katherine will be remembered by everyone whose lives she touched on her journey through life.
As published in Winnipeg Free Press on Nov 04, 2023