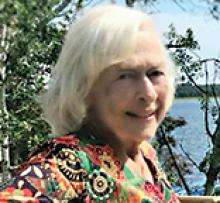 SHANLEY PARKINSON
It is with great sorrow we announce the recent passing of Shanley Parkinson, on the wedding anniversary belonging to she and Dale who predeceased her in 2006. She went to be with God, peacefully at home, with her three children by her side.
Remaining to celebrate her life are her children, Jane Parkinson, Janet Monks (Greg) and Brett Parkinson (Janet); her grandchildren, Ben, Abby and Eden Monks, Denise Nakonechny (Mike), Reed Monks, Ryan Payne, Nicole Chambers, and her great-grandchildren, Grayson, Ellis, Hadlee and Avery. She also leaves to mourn her very special friends, Cynthia, Maggie, Marilyn, Sue and Donny.
Shanley was born to the late Muriel and Peter in a small town in Northwestern Ontario in 1941, where she lived until she moved to Winnipeg as a teenager to attend boarding school at St. Mary's Academy. She was intelligent, musically gifted and a humble artist who painted her first of many oil paintings when she was just 15 years old. After high school she went on to pursue nursing at Misericordia Hospital, graduating and working in the operating and emergency rooms until she shifted her focus to geriatric nursing, working at Tuxedo Villa until her retirement. Shanley was an extraordinary nurse, described by her nursing colleagues as conscientious, dependable, always willing to lend a hand to her coworkers and most notably, a very kind and caring nurse.
If you shared any moments with Shanley you would know she was determined, strong and driven. She gave her opinion without hesitation but never dismissed the views that challenged her own. She had a huge heart and was very passionate about the things she loved. She was a true "Hockey Mom", evidenced by her exceptional contribution to minor hockey in Winnipeg, serving as the Chair of the Assiniboine Park Rangers "AA" Hockey Association. She was a force to be reckoned with and was instrumental in organizing one of the most successful hockey tournaments in Canada. Her legacy lives on with the annual Shanley Parkinson Award of Excellence Scholarship initiated by Dale in 2003 and continuing to this day. Her love of kids and hockey is legendary in Charleswood, as her commitment to the many young hockey players was evidenced by her many years of shuttling boys to 5:30 a.m. practices, organizing fundraisers and regularly chaperoning teams to out-of-town tournaments. She never missed a game or a practice.
Shanley was a generous soul and a born leader who volunteered her time to many other organizations. In addition to many years dedicated to the Rangers and to Roblin Park Community Centre, she also held the position of Worthy Matron of the Royal Order of the Eastern Star for two terms. She served as President of the Manitoba Camping Association and managed the CGIT Camp at Brereton Lake for over a decade, where she hosted the Roblin Park Bruins May Long Weekend gathering for many years. In her retirement, when she wasn't playing bridge or online scrabble, she devoted countless hours to knitting hundreds of toques that were given to inner city children in Winnipeg.
Shanley loved to travel and explored the globe with Dale and her children. She spent her winters in Anna Maria Island in Florida but was always eager to return to the place she loved most, the lake. She spent every summer with her family at the cabin where she could always be found pulling water skiers and feeding the masses at Lake of the Woods, Brereton or Falcon Lake. Anyone who knew Shanley knew that she was fun loving, a connoisseur of cooking and an extraordinary hostess. Her many annual get togethers, Block Parties, the Investors Group Shake on the Lake, the French Christmas Party, IG South in Florida, and her legendary Christmas celebrations were parties like none other.
"Mrs. P" had an open-door policy and will forever be remembered for her ability to, on a moment's notice, feed a dozen "extras" who appeared at her home or the cabin with (or sometimes even without!) her own kids. Mom accepted everyone with a smile and open arms, always ensuring everyone felt welcome. Mrs. P's kitchen was never closed!
Shanley was a very strong woman, who, despite health challenges over the years never once complained. Her grace, courage and strength through a tough battle with pancreatic cancer is truly an inspiration, but she will be most remembered for her endless love and dedication to her children and grandchildren. She was a loyal and devoted Mom and friend who was always available when you needed her, even when you didn't ask. She had an uncanny sense of knowing just when she was needed, dropping whatever she was doing to simply arrive on your doorstep saying "Put the coffee on." Known to be a great listener and a dependable source of sensible advice, Shanley was a rock for her family and friends.
When Shanley arrived into the world 78 years ago, her grandfather affectionately nicknamed her "Shandelier" and the bright light that she was will forever shine. Her sense of humour, gregarious laugh, no-nonsense approach to life, generous spirit, and unconditional love will be missed more than words can possibly express. We love you Mom and will see you on the shores of the lake at sunrise.
When peace like a river, attendeth my way,
When sorrows like sea billows roll
Whatever my lot, thou hast taught me to say
It is well, it is well, with my soul

A small family celebration of her life was held at Waverly Memorial Gardens where she has been laid to rest with Dale.
So that her legacy will live on, and should friends wish, a donation can be made to the Shanley Parkinson Ranger AA Hockey Scholarship Fund at The Winnipeg Foundation, 1350-1 Lombard Ave., Winnipeg, MB or through the following link: https://www.mycharitytools.com/gift/wpgfdn/donate?fund=1207
As published in Winnipeg Free Press on Oct 24, 2020