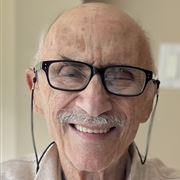 Israel (Irv) Gershbain
Passed away peacefully at the age of 89 on July 29, 2023 at Kensington Gardens long term care home, with his daughter Nikki by his side. Irv was predeceased by his wife, Doreen, as well as his brother Frank. He is survived by his children Kyle (Kristina Nauss Smith), Devi, Nikki (Kavita Joshi) and his grandchildren Max and Ela, and his sister Rose Shinewald (Stewart). Irv was born in Winnipeg in 1933, and grew up in the city's fabled North End. The son of socialist immigrants from Eastern Europe, he spoke only Yiddish until he was five years old. As a young man, Irv smoked cigarettes at Kelekis Restaurant on Main Street, joined card games at Obee's Steam Bath and at the original White House Restaurant on Selkirk Avenue, and played basketball at the YMHA (Young Men's Hebrew Association). It was there that, at age 25, Irv met his future wife Doreen - his bashert - and it was love at first sight. Irv asked her out and Doreen promptly cancelled her planned date for that evening. A year later they eloped - in the middle of winter, in the middle of the night - in Thief River Falls, Minnesota. With a razor-sharp wit and exuberant personality, Irv was irreverent, charismatic, and occasionally off- colour. He worked in sales, and his friends joked that he could sell a glass of water to a drowning man. Though he lacked formal education, he had a brilliant mind. He was a voracious reader, with a passion for history, geography, politics, and sports. He was an excellent poker player who stayed cool under pressure, and was reputed to play only winning hands. Irv and Doreen shared a passion for contract bridge. For a time, they played as a team, until Doreen became fed up with Irv's temper, and fired him as her partner. Irv travelled the tournament circuit, collecting many trophies along the way as a "Life Master" - a player of the highest rank. Irv encouraged his children to follow their passions and be their most authentic selves, without regard to convention. He took enormous pride in all of their accomplishments, sharing their achievements with anyone who would listen. In his 60's, when asked by his surgeon what his hobbies were, he responded: "Giving advice to my children". (Thankfully, his children would agree that he always gave the very best advice.) In 1988, Irv and Doreen moved to Toronto. In 1995, he suffered a massive heart attack and later that evening, Doreen had a stroke. While Irv eventually recovered from heart surgery, Doreen ended up confined to a wheelchair. He retired so he could care for her. For 25 years, he dedicated himself fully to her care, and to bringing joy and ease to her life. His deep love for Doreen was remarked on by everyone who knew them. In 2005, Irv and Doreen's grandson Max was born. Irv doted on him, and Max worshipped his grandfather. Though by this time he was legally blind, Irv took two buses and a streetcar across the city several times a month to pick Max up at daycare. Irv shared his passion and encyclopedic knowledge of basketball, as well as his love of Jewish humour, with his grandson. In 2013, Irv and Doreen welcomed Nikki's stepdaughter Ela into their family as their second grandchild. Incredibly proud of Ela's talents in musical theatre, and despite the fact that he couldn't see a thing, Irv attended every one of her shows. Whenever they were together, he would exclaim: "My star!" By 2018, with his sight almost completely gone and his pace slowing, Irv reluctantly accepted that he could no longer manage Doreen's care on his own. She moved into Kensington Gardens LTC home, and he followed in 2019, as soon as another room became available. Although they lived on different floors in the building, they ate all their meals together, regaling the other residents and staff with their witty banter and penchant for breaking out into song. One of their favourite activities was making popcorn and settling in for a Raptors game in Irv's room. The pandemic forced yet another difficult separation on Irv and Doreen, as they were required to isolate on separate floors. When it became clear that things were not going back to normal anytime soon, Irv requested a move to Doreen's floor. Thankfully, this allowed them to be reunited for a few more months, before her unexpected death in July of 2020. After 62 years of marriage to the love of his life, the last three years without Doreen were very hard on Irv, and his health steadily declined. While Irv took comfort and joy in his visits and conversations with his kids, grandkids, and other family members, he was never the same without his other half. Irv's family is extremely grateful to the kind and caring team at Kensington Gardens who supported him with compassion and dignity. With sincere apologies to anyone missing from this list, the family would like to thank: Dr. Shrott, Zelda, Shana, Samantha, Ramandeep, Shereen, Mona Liza, Irish, Nadine, Nicoleta, Mitzi, Chantal, Josie, Odette, John, Sarah, Philip, and Maddie, and everyone else who touched his life, and ours. Thank you also to Dr. Amit Arya, the Director of Palliative Care, who expertly and compassionately made sure Irv was comfortable during the final months, weeks, and days of his life. A final thank you to Irv's niece Ara Wiseman, who was like a daughter to him, and to his loving caregiver and friend Virginia Napenas. Donations In Irv's memory may be made to Kensington Health Foundation, please use this link:
https://bit.ly/46hCrsS
, 416-963- 9640.