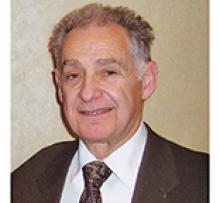 MARVIN PEARLMAN
It is with sadness and deep regret that we announce Marvin Pearlman's passing on February 1, 2020, at the age of 76.
He leaves to mourn his passing his wife of 43 years, Shirley; children, Alana (Andrew) and David (Melanie); grandchildren, George, Eden, Jack and Ellie; sisters, Audrey (Sydney) and Bebe (John); sister-in-law Reesa (Steven); nieces; nephews; cousins; and his aunt Ruchie. He was predeceased by his parents, Dutz and Edie Pearlman; and in-laws George and Helen Starec.
Marvin was an avid sport lover but he reserved a special place in his heart for golf and could be found many evenings and weekends at Glendale Golf and Country Club playing a round or two. He has since passed this love on to his son David after years of playing the game together. This love extended to his old River Heights home where the dents and dings on furniture, doors and ceilings bore evidence of a man always seeking to perfect his swing. His perseverance paid off with a hole in one, twice.
Marvin loved and took great pride in his family. He spoke fondly of his childhood and kept in close touch with his two sisters who lived on opposite coasts. He met his future wife, Shirley, in 1975 and they married one year later. He loved her dearly and spoke in soft, admiring ways about both her talents and the ways she kept his heart and belly full. Between them they raised two adoring children who in turn blessed them with four precious grandchildren. He loved all of them. The family's fondest memories of Marvin would always be at their Queenston Bay home around dinner time where he could be found sitting at a table filled with family and guests, sipping his Diet Coke and sharing stories and jokes long after the plates had been cleared.
Marvin was a true mensch. He was warm, funny, well mannered, generous and easygoing; a devoted husband and a loving brother, father and grandfather. He will always be deeply loved and remembered by those closest to him.
As published in the Winnipeg Free Press on Feb 29, 2020