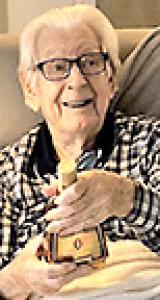 GEORGE SIRED
Love and laughter with a smile on his face best describes our 100+ adoring father George who left us on August 1, 2021, passing peacefully at Deer Lodge Centre. Predeceased by our mother Jean (Currie) Sired, and Ken Sired (son).
He is survived by David, John, Anne Thomson and Carol Nellis and will be profoundly missed by them along with seven beautiful grandchildren and four great-grandchildren.
Dad was quite a character. A good family friend said he never saw Dad angry. Leaving a legacy of kindness, optimism, and humour behind. One of his favourite sayings was "kindness doesn't cost anything...so please give it away!"
He always looked like a dashing English gentleman (until he opened his mouth). Dad always had to have a crease in his pants and shorts. He never wore a pair of jeans or sneakers. In fact, during an armed robbery, he was told to hit the dirty floor which he refused to do in his colourful vernacular way!
Dad had many passions, family being number one, golf and gardening in the summer, darts and bridge in the winter. He loved cooking year-round and by breakfast he was busy planning supper. Dad was famous for his Sunday dinners which consisted of roast beef, lamb, Yorkshire pudding and a choice of pies. He said cook your own food. An avid canner, he was often asked for his recipes of jams, jellies and pickles.
His love of food stemmed from growing up during the hungry 1930s. Dad continuously sent food to England for his family into the 1960s and on one trip home smuggled Angus Beef and Canadian Cheddar cheese into his golf bag for his brothers!
Dad was remarkable at mental math. We attribute this to his earlier pub days playing darts.
By profession, Dad was a Master plasterer throughout his life and got his start prior to the Second World War. He was considered an Essential worker as he worked on hospitals and schools. He enlisted in the Air Force the first day of the war and later set sail on the Louis Pasteur on route to Halifax which took six days on the Ocean and another six days by train to Moose Jaw where he began his training.
While in Moose Jaw Dad met the love of his life, Jean. They were married for one week in a house wedding before he was shipped back to England for two and a half years (not seeing each other) and went on and celebrated 73 plus years. Their love for each other was an inspiration to family and friends. Dad was a devoted family man.
Wherever Dad has been, banks, grocery stores, hairdressers, neighbours, assisted living, he has made an indelible mark for sharing his kindness, wit and stories. Dad loved to laugh and uplift others! Often bringing people cookies, cakes and jellies.
At 97 Dad moved into Deer Lodge where he received tremendous care which allowed him to reach his milestone birthday of 100. We celebrated by cracking open a cherished and delicious 75-year-old bottle of rye. Let's raise a glass and toast all the people in our lives who, like Dad, make a profound and positive difference in others. Dad you were so ahead of your time teaching us how to be kind and to chase and find the joys in life. We truly grew up in a house filled with love and laughter.
As published in Winnipeg Free Press on Aug 07, 2021