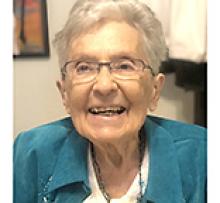 VIVIAN DESAULNIERS
It is with sadness that we announce the death of Vivian Rita Desaulniers (née Parent) on September 3, 2021, at the age of 90.
She leaves behind her children, Lise, Paulette (Bob), Jean (Suzanne) and Jacques (Kim), her grandchildren, Julien (Katie), Marlène, Luc and Colin, her sisters, Alice, Lorraine and Denise, and her brothers, Maurice and Richard. She was predeceased by her husband Maxime, her sister Thérèse, and her brothers, Arthur and Norbert.
Vivian was born on September 25, 1930, in Gravelbourg, SK. She studied nursing at the St. Boniface General Hospital. She took delight in her career which she returned to after raising her children.
Vivian loved order and everything she did was done to perfection, whether it was gardening, cooking, bridge, sewing or knitting. The greatest joy of her life was her grandchildren whom she spoiled without reservation. Vivian enjoyed her summers at Albert Beach, hiking, riding her bicycle and yoga. Vivian and Max spent many happy winters in Florida after retirement.
Vivian moved to Villa Aulneau in 2013. Appreciated by all, she made many friends. She had a special affection for her friend Gabrielle and was very appreciative of the activities organized by Drissia Jamaa. Her greatest wish was to spend her last years in her suite and thanks to the gentle and efficient care of Christine Ball, her wish was granted.
Vivian remained very busy at the Villa with jigsaw and crossword puzzles, cards and craft projects to decorate her entrance. She loved to have visitors and frequently welcomed them. Those lucky enough to share a meal with her knew that she always had something interesting to say. When her grandson asked her if she was bored at her age she replied, "The days fill up quickly when you move slowly." She may not have been moving fast, but nothing was lost on her. She remained of sound mind until her final days.
Special thanks to Huguette and the staff of B2 at the Health Sciences Centre Hospital.
According to her request, the cremation and funeral will take place at a later date.
As published in Winnipeg Free Press on Sep 11, 2021