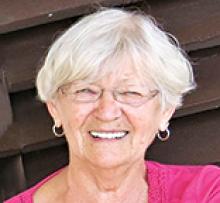 CHESSIE (CZESLAWA) STELLA TODD
(nee BUDY)
With her family at her side, Chessie passed away peacefully on Saturday, September 4, 2021, at the age of 96.
She will be dearly missed by her children, Bob (Pat deceased), Debbie (Lawrence Bortoluzzi), Karen (Reid Felske) and Curtis; grandchildren, David (Sheri), Erin (Andrew), Jamie (Sarah), Jessica (Jonathan), Andrew, Dawn (Payton), Mark, Dana, Shannon (Elliott), Ryan (Nicole) and Chessa; great-grandchildren, Emma, Abby, Alexander, Zoe, Maggie, Jack, Spencer, Harper, Julianna, Riley, brother Walter (Agnes), and her many friends.
Chessie was predeceased by her beloved husband Jim; son Murray (Maureen deceased) and brothers, Joe Budy and Ron Kohanchuk, and many other extended family members.
Chessie was born in Tarnobrzeg, Poland on March 22, 1925. She immigrated to Canada at the age of six with her mother (Julia Kohanchuk) and brothers, joining her father (Andrew Budy), who had already established a home in East Selkirk. After attending Happy Thought School, she moved to Winnipeg where she met Jim, her loving husband of 62 years.
Chessie had many talents and interests. Never one to sit still, she loved to socialize with friends, playing cards, bowling, dancing or just having a glass of wine. She was very creative and artistic evidenced by her sewing, knitting, needlework, sculpting and love of fashion. She also excelled at gardening and beautifying her yard. She was an avid sports fan who loved watching baseball, curling, the Bombers as well as attending Jets games whenever she could.
After retirement, Chessie and Jim enjoyed travelling across Canada and holidaying with friends in warmer climates. They particularly enjoyed visiting children and grandchildren on these trips. One of Chessie's many highlights was her trip to Poland in 2014 to search out her family roots.
Chessie was deeply religious and compassionate, especially for those in need, which resulted in her supporting many charities. She was kind, caring, and also had a great sense of humour.
We want to thank the wonderful staff at Jocelyn House Hospice. Our family deeply appreciates the sincere love and care they gave her over this last year and a half, especially when we couldn't be there with our beloved mom.
Livestreamed video of the service can be viewed at: https://www.st-timothy.ca/funerals.
In lieu of flowers, donations may be made to Jocelyn House or any charity of your choice.

Publish Date: Sep 11, 2021

As published in Winnipeg Free Press on Sep 08, 2021, Sep 11, 2021