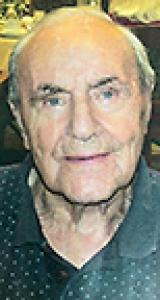 LEON RUBIN MD, LMCC, FRCS, FRCOG
October 3, 1922 - July 27, 2019
It is with profound sadness that we announce the passing of Leon on July 27, 2019, at the age of 96.
Predeceased in 2016 by his beloved wife of 68 years, Lainy, Leon is immensely missed by his three children, David (Devorah), Lisa (Glen - deceased) and Daniel; his grandchildren, Danielle, Evan, Patrick, Bryan (Amanda) and Matthew (Krystine); and his great-granddaughters, Aria and Navy. Leon is survived and missed by his brother-in-law Jeffrey, sisters-in-law, Sybil and Clarice, and many loving nieces and nephews. Leon is predeceased by his brothers, Jack and Manly; his sisters-in-law, Patty and Lois; and his brother-in-law Astor.
Leon was a very special man and was loved and greatly respected by so many. As the patriarch of our family, his passing has left a huge hole in our hearts and in our family. Words are not adequate to describe our loss.
Leon was born in Winnipeg to Harry and Jean Rubin and grew up in Winnipeg's north end on Machray Street, attending St. John's Tech School. His father passed away when Leon, the oldest of three boys, was 12 years of age, and Leon took on the role as master of the house. Growing up, Leon and his brothers were interested in sports and formed a club called the Demons to compete with other groups in hockey and football. In his youth, Leon was active at the YMHA, mostly in sports and debating.
Leon had a long, highly satisfying, and distinguished career in medicine. Leon obtained his medical degree from the University of Manitoba in 1945 and was awarded the gold medal for the highest standing in obstetrics and gynecology. After graduation, Leon joined the Canadian Army Medical Corps, reaching the rank of captain. After discharge from the army, he completed a residency in Obstetrics and Gynecology.
On completion of his residency, Leon and Lainy moved to Rivers, Manitoba where for more than three years Leon practiced general medicine. They returned to Winnipeg where Leon established a practice in Obstetrics and Gynecology. In 1954, with oldest son David in tow, they travelled to England for four months where Leon qualified for the prestigious designation as a member Royal College of Obstetricians and Gynecologists. He practiced his specialty for more than 50 years, mostly at the Mall Medical Group. For many years, Leon was the head of the obstetrics department at Misericordia Hospital, and he was an associate professor at the University of Manitoba. Leon provided free medical care for many years at Winnipeg's Mount Carmel Clinic, which provided free medical care to poor families. He said it was an honour and his duty as a physician to do this charity work. He estimated that he delivered 5000 babies during his career!
Leon was very active and involved in the Winnipeg community. He served on the board of the Royal Winnipeg Ballet for 26 years, including two years as President of the Board. For a number of years, Leon enjoyed an association with the Jewish Historical Society and its successor, the Jewish Heritage Centre, serving on its executive and on its Honorary Council. Leon also pursued hobbies of sculpting, writing, bridge and golf. He was incredibly accomplished in all his pursuits and he had a number of his pieces of writing published.
Leon and Lainy met on the labour floor when she was a student nurse and he was a resident and were married in 1948. They were able to travel extensively throughout their married life, including to China and the Orient with the Royal Winnipeg Ballet in 1988; and they were fortunate to enjoy many winters in Palm Springs, California. The family spent many happy summers at their cottage at Falcon Lake, beginning in 1955, often with visits from extended family and friends. In 2009, Leon and Lainy moved to the Shaftesbury Retirement Home and they were very happy there.
Interment took place at the Shaarey Zedek Cemetery on July 30; Rabbi Matthew Leibl officiated.
Donations in Leon's honour may be made to the Royal Winnipeg Ballet School, the Winnipeg Humane Society or a charity of your choice.
As published in the Winnipeg Free Press on Aug 03, 2019