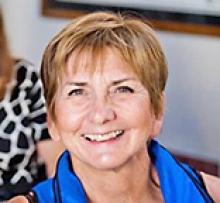 SUSAN DAVID JOHNSON
In the arms of her beloved husband Guy, Susan David Johnson passed away on January 31, 2020, following a three-year battle with lung cancer.
Susan was a master of efficiency with an impressive capacity to work - and was a true 'doer.' She was fierce, forthright, and extremely loyal to her family and friends. The two words that best describe Susan are passionate and curious. She cultivated many passions throughout her life, from competitive swimming and golf, to community work. Her engaging and curious nature allowed her to take genuine interest in each person's story - finding common ground and building connection with nearly everyone she encountered, young and old alike.
Born in Winnipeg in 1951 to Barbara (Wood) Irish and Fred David, Susan grew up on Churchill Drive and later, on an acreage in Birds Hill. Susan graduated from the University of Manitoba in 1976 with a degree in Home Economics. She then took the leap of moving north to Dauphin, Manitoba to manage the Federated Co-op store's dry goods department. In Dauphin, she made many lifelong friends and was introduced to a gallant cattle rancher from Eddystone, Guy Johnson. Her love of conversation and approach to life and social issues swiftly won his heart.
Guy and Susan were married in 1982. Susan became co-owner and operator of Shoreline Stock Farm, and the city girl officially became a cattle rancher. Her analytical mind and relentless work ethic were instrumental in making the ranch a success. Their children, Meredith and David, were born in 1983 and 1985. In addition to managing a growing ranch, she was also a stay-at-home mom. She grew a bountiful garden, made pickles and jams, baked ice cream pails full of cookies, sewed Halloween costumes, walked daily down Johnson Road to stay in shape, and prepared every meal from scratch - all the while shuttling her kids to endless sports games, piano lessons and 4-H meetings. She took an active role in the Eddystone community, dedicating countless hours to community events and fundraising.
Susan took on other exciting and rewarding opportunities - as campaign manager for her friend Jane Dawson who ran as a Liberal candidate during the 2000 federal election, and later, as President of the Liberal federal constituency. Susan was appointed to the National Farm Products Council board from 2005 to 2008. She enjoyed her time commuting to Ottawa and serving on a high level board.
Throughout her life, she immersed herself in many different activities. Her early passion was swimming, which culminated in swimming competitively on the University of Manitoba swim team. She then moved on to rowing, competing in the Canada Summer Games and at regattas across Manitoba, Ontario, and the United States. After moving to Eddystone, she dedicated herself to curling until she sunk her first putt on the golf course, golfing daily for many summers. She was devoted to yoga and a prolific reader. During her last few years in Winnipeg, she found her final passion in bridge. Her competitive spirit was bright until the end, where she became frustrated after not scoring well enough to earn coveted silver points during her final bridge match a few days before she passed.
Memories of Susan will be cherished and fondly remembered by her husband Guy; daughter Meredith Johnson; son David Johnson (Meghan Greenlay); mother Barbara Irish; sister Lesley Velten-Jameson (Christian Velten-Jameson); brother Jim David (Rita Boulet); stepbrother Richard Irish (Robb Desrochers); her darling grandson Nesta Mhina; sister-in-law Holly Johnson, and many aunts, uncles, cousins, nieces, nephews and friends. She was predeceased by her father Fred David; stepfather Bill Irish and parents-in-law, Leonard and Ethel Johnson.
After her final visit with her Aunt Helen years ago, Susan couldn't remember if she'd told her that she loved her. She made a pledge to herself from then on to end every conversation by saying "…and remember, I love you."
Susan David Johnson, July 6, 1951 - January 31, 2020. Please join us in celebrating her life at the Westlake Community Centre in Eddystone, MB on Saturday, February 22, at 2:00 p.m.
We are grateful to family and friends who supported Susan during her illness. She felt very loved. The family is most grateful to the staff at CancerCare who took such great care of Susan during the three years she lived with her diagnosis, and cried along with us at her passing.
In Susan's honour, donations can be made to CancerCare Manitoba Foundation, 675 McDermot Avenue, Room 0N1160, Winnipeg, MB R3E 0V9, 204-787-4143.
Sneath-Strilchuk -Ste. Rose Chapel
204-447-2444
www.sneathstrilchuk.com
MAKE A DONATION TO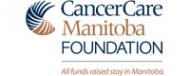 As published in the Winnipeg Free Press on Feb 15, 2020