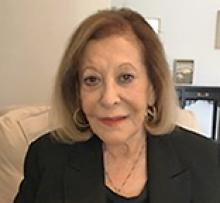 PEARL MORANTZ
The family of Pearl Morantz is sad to announce her passing on February 26, 2020.
Pearl was born on March 21, 1938, in Winnipeg, Manitoba, the daughter of Peter and Gertie Litman.
Pearl is survived by her four children, Richard (Sheree), Martin (Lisa), Steven and Susie (Evan), and six grandchildren, Ethan, Sean, Emily, Jeremy, Jacob and Zachary, her brother Leslie (Carol) and sister Judy.
Pearl was predeceased by her parents, grandson Nathan, and brother-in-law Jim.
Pearl was known as an avid and excellent bridge player and if you knew her, you were lucky to do so.
The funeral was officiated by Rabbi Matthew Leibl at Shaarey Zedek Cemetery on February 28, 2020.
In Pearl's memory, donations may be made to Autism Speaks, a cause that is very meaningful to our family. Please contact Eddie at 1-888-362-6227.
As published in the Winnipeg Free Press on Mar 07, 2020