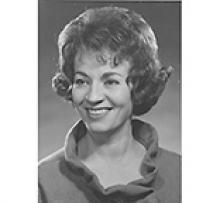 SALLY GOLDBERG
Sally Goldberg, born May 25, 1924 in Brunkild, Manitoba to the late Jack and Bryna Dashevsky, passed peacefully August 4, 2021, at Seven Oaks Hospital in Winnipeg.
One of eight children, Sally was a real country girl. She rode horses, was captain of her girls' baseball team, and loved to sing.
She was a life master bridge player and an avid golfer at Glendale with three hole-in-ones to her name.
Sally will be sorely missed by her children, Maureen Rabin (David) of Montreal, Monica Walderman (Mykl) of Toronto, and Marc Goldberg (Kathryn); devoted grandchildren, Jennifer, Jason (Elinor), Carly, Bryan (Erin), Michael (April), and Erin (Darrin); great-grandchildren, Corey, Joshua, Lily, and Aaron; brothers, Hy (Esther), and Norman (Julia); sisters, Faye, Edie, and Harriett; and numerous nephews and nieces.
Sally was predeceased by her beloved husband Al, grandson Owen Walderman, brother Maurice, sister Rosetta, and brothers and sisters-in-law.
Private service was held in Winnipeg at Shaarey Zedek Cemetery.
Donations in Sally's memory can be made to the Owen Walderman Foundation at the Hospital for Sick Children in Toronto, or to a charity of your choice.
As published in Winnipeg Free Press on Aug 21, 2021