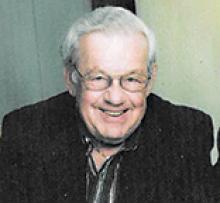 HENRY KATZ
Henry died on August 17, 2021, after a valiant fight with cancer.
Henry was married to the late Dena Namak and they both enjoyed a loving and caring relationship, along with many friends. Henry is survived by a first cousin Susan Hewman living in Lewisburg, West Virginia.
Henry was born on April 14, 1930, in Germany and immigrated in 1939 with his father and mother, David and Gerturde Katz, having escaped the Holocaust. Unfortunately, all of Henry's relatives perished at the hands of the Nazi's. Henry was a very bright student, attending Machray School, St. John's High School and the University of Manitoba Faculty of Commerce. After graduating, Henry secured employment with Revenue Canada and then he moved on to Aronovitch & Lipsic, where he was attached to the Insurance department for 17 years. Henry then moved to Milco Insurance, retiring as its Vice President in 1996.
Henry enjoyed his time spent with Dena in Florida and later, in Palm Springs during his retirement. When he lost Dena, he returned to Palm Springs, catching up with his Winnipeg friends. Henry took pride in every organization he belonged to, being active in Bnai Brith and was president of his lodge, along with being president of the central Canadian counsel for a term. Henry made and maintained many friends over his lifetime, particularly, through business, his organizations and playing bridge which, he excelled in. Henry was a kind, caring, and compassionate person, always aware of his place in this world. He was very practical and accepted life for what it was for him. Henry was a quiet patron to various charities and loved listening to classical music and the Winnipeg Symphany. Henry tried to make life into a sweet song.
A graveside funeral for Henry took place at the Rosh Pina Memorial Park Cemetery, officiated by Rabbi Kliel Rose on Thursday August 19.
May Henry's memory be a blessing.
As published in Winnipeg Free Press on Sep 04, 2021