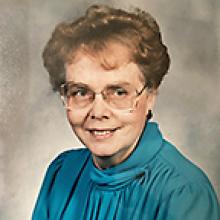 MERLE BROWN
On Sunday, February 13, 2022, Merle Olive (Hacking) Brown died peacefully at West Park Manor in Winnipeg, MB.
She was predeceased by her beloved husband Albert Brindley (Brin) Stubbs Brown, who passed on November 10, 1992; her parents, Agnes Elizabeth Harrison (d: 1962) and William Henry (Billy) Hacking (d: 1948); and her four siblings, Gordon (d: 1975), Marjorie (d: 1980), Eilleen (d: 1931), and Frank (d: 1924) Hacking.
Early settlers to Canada, Merle's family settled in the Birdtail Valley in Manitoba in the 1870s. She was born on January 27, 1928 in the town of Birtle, MB, and some of her greatest memories and joys came from growing up in the sweeping hills and countryside surrounding Birtle. She often reminisced about her most loved and trusted companion, Maggie, her cherished childhood horse. Merle rode Maggie to and from school each day and often explored the many breathtaking vistas of Birtle, Solsgirth, and the Birdtail Valley on horseback.
As a young adult Merle moved to Winnipeg to attend United College (now University of Winnipeg) to study Sciences. She met the love of her life, Brin Brown at the Sherbrook Pool, where he was teaching swimming lessons after a distinguished career in the Navy during the Second World War. Brin asked for the pleasure of escorting Merle home one day and the two soon became devoted partners. Not long after they were wed and had three daughters, Lorna (Lorne) Stevens, Donna Williams, and Brenda (Brian) Smith.
Merle was accomplished in many areas. As well as working as an Executive Secretary for Cotter Canada from 1973 until 1995, she was an active member of Westworth United Church and former United Church Women (UCW) president. She was an avid golfer, gardener, reader, and curler who held past positions as the President of the Charleswood Curing Club and President of the Manitoba Ladies Curling Association. She also loved attending the opera and theatre, and playing competitive bridge. She was only two gold points short of obtaining the rank of Life Master in the American Contract Bridge League. Family summers were spent travelling, camping, and canoeing the lakes in her favourite spots of Hecla Island and Big Whiteshell. She was a child of nature and she was at her best when she was in the outdoors and being active.
Merle was a fiercely dignified, independent woman whose wit and dry sense of humour came quick, and even late in life, could catch you off guard if you weren't prepared. She was an amazing cook and cherished her role as the family host for all major family gatherings and meals. Her legendary disapproving and guilt-ridden stare was levelled at anyone she thought could handle two or even three more helpings before leaving the table.
She was a loving, and devoted grandmother to Lindsey (Christine) and Lee (Charlotte) Stevens, Brin (Kate) Porter, and Dillon (Mariell) and Tyler Smith, and could always be counted on to be the number one fan at any sporting event or activity featuring any one of them. While in her 80s she was regularly spotted walking down pitch-black, icy deer trails to make sure she didn't miss one of their hockey games. She was also the much loved great-grandmother to Poppy and Winifred Sigurdson-Stevens, Sullivan and Henry Stevens, and Carys Porter.
Merle is further survived by her sister-in-law Evelyn Hacking, brother-in-law Don Smith, nieces and nephews, Lois (Hacking) Boras, Keith and David Hacking, Karen Smith-McCune, Linda (Smith) Craig, and Arthur and David Smith.
At a later date, family from far and wide will celebrate Merle's life with a gravesite remembrance at St. James Cemetery in Solsgirth, MB. Those who wish to make a memorial contribution may do so to: St. James Church and Cemetery, Solsgirth, MB, care of Mrs. Betty Ann Copping, Box 192, Foxwarren, Manitoba R0J 0R0.

THOMSON "IN THE PARK"
204-925-1120
This obituary may also be viewed and
condolences may be sent to
www.thomsoninthepark.com
As published in Winnipeg Free Press on Feb 19, 2022