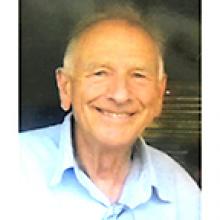 WAYNE HANS NIELSEN
It is with great sorrow, that we announce that in the early morning of May 20, 2022, Wayne Hans Nielsen died peacefully in his sleep at the Grace Hospital.
Wayne's memory will be forever cherished by his wife Val; daughters, Tracy, and Leslie (Frain), sons, Greg (Sandy) and Jeff (Muriel), sister-in-law Lorraine; and his many friends as well as his grandchildren and great-grandchildren. He was predeceased by his brother Don and his sister Gwen.
Wayne was born in 1934 in Radville, Saskatchewan, to Rudolf and Elly Nielsen who came to Canada in the late 1920's from the "old country" of Denmark to begin a new life farming on the prairies. In 1937, they moved to Melita, Manitoba, eventually saving enough money to buy a car and a piece of land on the slopes near Bridesville, British Columbia. There they established the family farm.
Wayne's formative years were spent on the farm during the Great Depression, and the years that followed, with his older brother Don and his younger sister Gwen. During that time, he often rode his horse, Cappy, to Rock Mountain School, the one-room school he attended as a boy. After leaving Bridesville School he boarded with a family in Oliver so that he could attend Southern Okanagan High School, from which he graduated in 1953.
A year later, Wayne made the decision that changed his life-- to leave the farm and move to the city to register at the University of British Columbia. There his interests in history and world affairs led him to philosophy classes and, in the decades that followed, the "love of wisdom" would become his life calling. As well, in that very same class, he met the love of his life Valerie Dowling whom he referred to as "my bride" over the sixty-two years of their marriage.
After completing his B.A. and M.A. at UBC in 1960, Wayne and Val moved to Ann Arbor, Michigan, where Wayne began work on his PhD. In 1964, they packed their belongings, now including three-year old twin daughters (Leslie and Tracy) into their 1955 Ford and headed north to Saskatoon. Wayne taught for a year at the University of Saskatchewan, and it was there that their first son, Gregory, was born. In 1965, they headed east to Winnipeg, where Wayne joined the Department of Philosophy at the University of Manitoba. He was a well-loved professor for 32 years at University College, where he developed lasting relationships with his colleagues and students, many of whom were inspired by his love of Plato and his vision of the good society.
Wayne never strayed far from his farm boy roots. In 1968, the family moved to a spacious lot in St. Norbert, where their son, Jeffrey was born. There, in the summer, he created a large garden nourished by his unique system of composting. His bountiful garden provided food for friends, family, neighbours, co-workers and alas, in later years, the local deer. In the winter, the garden was turned into a neighbourhood ice rink.
Wayne retired from teaching in 1997 but his work in the garden continued as did his role of passing down his wisdom and experience. He loved the time he was able to spend with his 10 grandchildren and 6 great-grandchildren, reading , bike-riding , gardening with them and, of course, fixing anything that was broken. In his retirement years, he enjoyed traveling the world with Val, twice-a day scrabble games, bridge whenever possible, beer and wine making, dog-walking with Mowgli, reading the paper and chatting to anyone willing to discuss world affairs, the problems of humanity or tomatoes.
Please join us at a celebration of Wayne's life on Saturday, June 4, at 1:00 p.m. at The Laureate Academy, 100 Villa Maria Place.
As published in Winnipeg Free Press on May 28, 2022