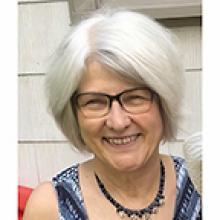 EILEEN LAURA MARSHALL
October 18, 1951 - July 29, 2022

It is with profound sadness that we announce Eileen's passing on July 29, 2022, after a short but courageous battle with brain cancer.
Eileen will be deeply missed by Jack Wilkinson, her husband and best friend of 42 years; their daughters, Amy (Aaron) and Emily; granddaughters, Hazel and Clara; her two brothers, Robert (Jean) and Alan (Melody); sisters-in-law, Catherine Shelton (Andrew), Margaret Ann Brown, and Joan Sitterud (Jay); many nieces, nephews, and cousins; and a wide circle of friends and colleagues, including her beloved "Supper Club." She was predeceased by her parents, Reg, and Laura Marshall; her mother-in-law Margaret Wilkinson; her sister-in-law Emma Wilkinson; and her dear friend Catherine Krykewich Cross.
Eileen was born in Toronto and in her early childhood, moved to Winnipeg with her mother and father, settling on Hazeldell Avenue in East Kildonan. When her two brothers arrived, Eileen became the protective big sister she remained all her life. As a child, she spent many summers with her Owen Sound family, visiting Sauble Beach, the family farm, and her treasured Grandma Beattie. In her teens, Eileen taught piano and attended Miles Macdonell Collegiate, making friends she kept until the very end.
Eileen graduated from the University of Manitoba and backpacked with a friend through Europe. On returning home, she worked with at-risk youth at Children's Home of Winnipeg and Luxton School, which inspired her to return to university to study education. Teaching was to become Eileen's lifelong passion.
Eileen's teaching career really started at William Whyte School, where she formed many lifelong friendships. There she developed a deep commitment to the education of young children. An outspoken advocate for best practices in education, Eileen was a founding member of the Grove Street Teachers' Centre and was sought after to lead many workshops for other educators throughout her career. Eileen later moved to Wolseley School, where she job-shared with Jack in a multiage classroom for 17 years. She subsequently took over the Resource Program at Wolseley, staying close to the colleagues and community she cherished before retiring in 2017. Eileen was a force for good education, supporting kids with all their various gifts and challenges.
Eileen met Jack, the love of her life, in 1980. Their relationship was one of immeasurable love, respect, honesty, and mutual admiration; it nurtured and sustained them both through life's highs and lows. Eileen found immense joy in their beautiful Wolseley home, in sharing her work with Jack, and in their two daughters. Eileen was a devoted mom to Amy and Emily. She loved them fiercely and remained a steadfast support until her passing. There wasn't anything she wouldn't do for her two kids. Becoming a grandmother, or Gaga, brought delight and excitement beyond compare. Eileen created a beautiful playroom in her home, where many happy hours were spent playing with her granddaughters over the past three years. It brought Eileen immense sadness to know she would not see her grandchildren grow up. Eileen was truly the glue that held us together, welcoming family and friends into her home for Sunday dinners, birthday parties, and Christmas mornings. She made everyone feel loved and valued.
Following her retirement from teaching, Eileen dedicated herself to hobbies and projects new and old. Piano, violin, bridge, swimming, and yoga sustained Eileen and brought her great joy and new friendships. She did everything with passion, commitment, and discipline. A woman of routines, Eileen enjoyed her early morning coffee at her desk, where she made lists for the day and "balanced the books." She was immensely practical and sensible, but also incredibly generous and giving of her time, talents, and resources. Following her diagnosis, Eileen kept up with the business of living and maintained a get-on-with-it attitude. Eileen's wish was to remain at home through her illness, where she took great pleasure in thunderstorms and in visits from her many friends and family. She was characteristically happy until the end.
We will miss you so much, Mom. May you rest in peace.
A Celebration of Life will be held on August 17, at 2 p.m. at the Unitarian Universalist Church at 603 Wellington Crescent.
In lieu of flowers, donations can be made in Eileen's memory to the Literacy for Life Fund through the Winnipeg Foundation.
Eileen's family kindly requests that her friends and relatives take a few minutes to honour her memory by visiting her tribute page at EthicalDeathCare.com. A photo-biography, as well as memories and stories published by those who knew her are available there.

ETHICAL DEATH CARE
Simple Cremation & Life Celebrations
204-421-5501 – EthicalDeathCare.com
As published in Winnipeg Free Press on Aug 06, 2022